The ALPINE climate and calcareous soils
form ideal terroir for PINOT.

And every
OUNCE of our PASSION flows into them!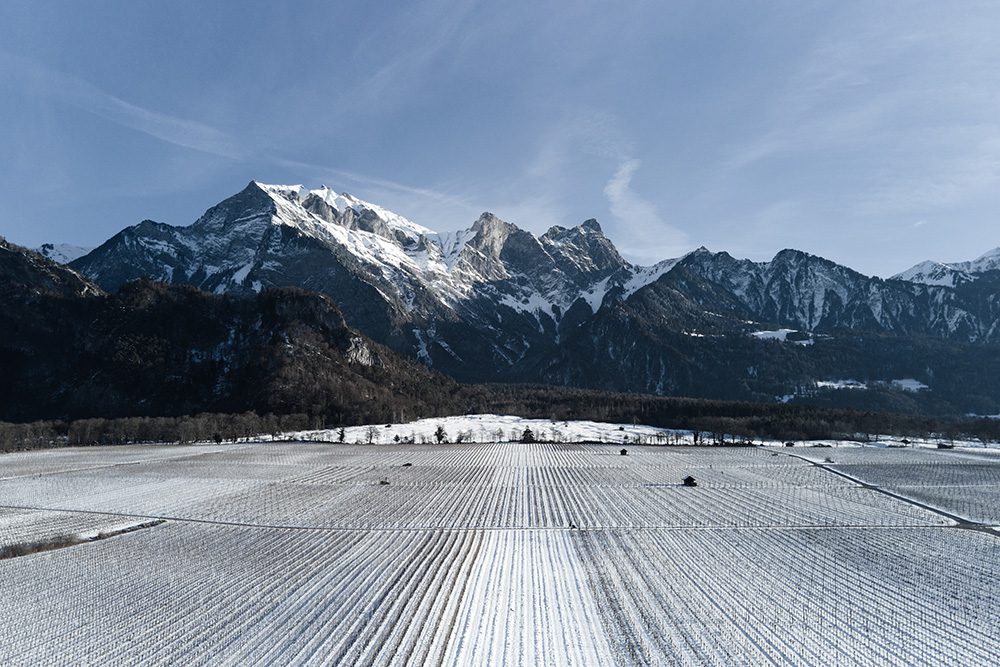 Vines and wines are our passion and our inspiration. We love the craftsmanship and ever-changing challenges that arise through the different seasons. In winter, we marvel under the clear skies of the Bündner Herrschaft as we prune to lay the groundwork for the coming vintage. In summer, we observe drops of dew glistening from the leaves as we trim the canopy. And especially in autumn, as the crew heads out for the 'wimmle,' as harvest is called in the local dialect.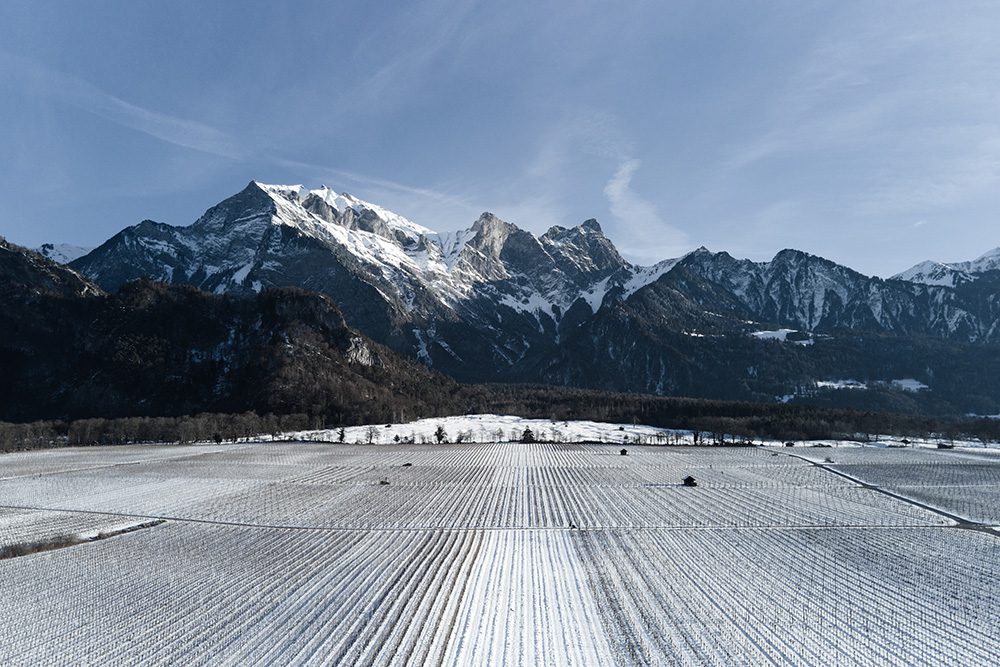 Our strategy and our methods are attuned to Fläsch's terroir. Rich in limestone, mingled with shares of clay and loam that vary from site to site, this place and its permeable, warm slate soils define our wines. Yet it is the microclimate that ultimately rounds out the Fläsch's terroir: In autumn, the skies above the Bündner Herrschaft run to deep blue, and the atmosphere feels almost like silk. The Föhn, a legendary recurring weather pattern, then makes its way through the Alpine Rhine regions. It dries the dew from the grapes and brings the warmth needed to give a fine polish to the fruit's ripeness. And things do indeed get warm during the day. In the evening, cool descending winds from the Fläsch mountains pour past the vines, ensuring balanced acidity.
Adank Weine is a family-run estate, which means that we handle every step from vine to bottle. Our strength stems from how well we work together in our small team. Mutual respect and an open ear for ideas and visions help move our wines forward. Honest hand craftsmanship, sustainability, and time are pillars of our philosophy. Time that we grant ourselves to make the right decisions, and time that we grant the wines to reach their completion. Craftsmanship built on experience gained each and every day in the cellar and the vineyards. Sustainability as we live it ourselves: Our soils feature as much variety and bio-diversity as possible, to ensure that they are still there for the next generation.
Our wines can be found in some of the best addresses listed around the world. Don't hesitate to ask which selected partners carry our wines in their high quality portfolio in the following export countries. Simply send us an email.
Austria
Belgium
Czech Republic
France
Germany
Hong Kong
Luxembourg
Netherlands
South Korea
Thailand
United Kingdom
United States of America